JABRA EVOLVE2 40 MS STEREO, USB A Headset-24089-999-999
KSh16,000 VAT Exc. (-11%)
Noise-isolating design helps you hear better
Works with all smart devices using USB-A
3-microphone call technology
Busy light visible from all angles to avoid co-worker interruptions
Call control buttons on the headset
Made for voice and music listening pleasure with 40mm speakers
Brilliant audio with our most advanced digital chipset
Soft memory foam cushions for all-day wearing comfort
Add to quote

Compare
Jabra Evolve2 40 UC Stereo USB Headset
It's Not Just New In Every Way. It's The New jabra
Put on your Jabra Evolve2 40 UC Stereo and feel the noise around you instantly fade, as the isolating foam oval ear cushions and pioneering new angled earcup design work to effectively block out your surroundings, giving you outstanding passive noise cancellation. Instant quiet without leaving your desk. That's the new standard.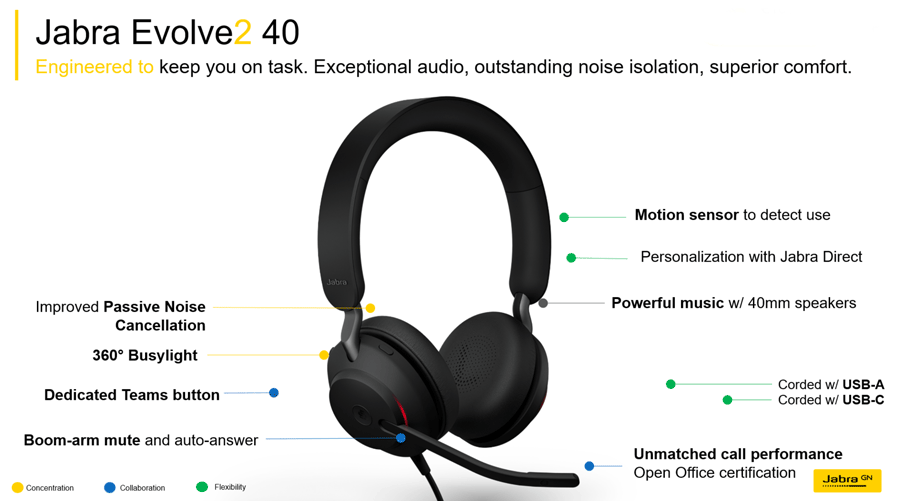 Jabra Evolve2 40 BUSYLIGHT – Don't hide when you're in your stride.
We've taken our busylight to a whole new level, making it visible from any direction. The red light is automatically activated when you're on a call or in a meeting, or you can activate it yourself at the touch of a button.
So, even when you're right in the middle of everything, your busylight will protect you from all angles, and all interruptions. It's like having a built-in security guard for your concentration.
CALLS – You call the shots.
When you've got a lot to get through, seamless, professional calls are vital. So we took the incredible call performance of our world-leading Evolve Series, and we made it even better, building in three strategically placed powerful professional microphones and adding our advanced digital chipset and latest signal processing technology. So when you need to make the call, your headset won't let you down.
UC-CERTIFICATION – UC-certified means UC-satisfied.
Satisfaction guaranteed isn't something you hear very often these days, but we're bringing it back; Evolve2 40 UC Stereo works with all leading Unified Communications (UC) platforms, for truly seamless collaboration. If your UC platform of choice is Microsoft Teams, the Teams-certified variant is perfectly adapted and optimized to give you the best experience with the platform.
Jabra Evolve2 40 MUSIC – Music matters.
We built this headset with powerful leak-tolerant 40mm speakers and powered it with our most advanced digital chipset ever. The Evolve Series brought you great music while you worked. Now, with Evolve2 UC Stereo, we're leveling up the audio quality to bring you music like you've never heard. Sound good? You bet it does.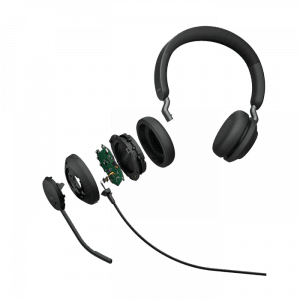 COMFORT – The new standard of comfort.
We set out to create a wireless headset that would feel so great, you'd forget you were even wearing it. We designed the perfect shape using biometric measurements from hundreds of heads. Then we added soft memory foam cushions that mold to your ear's natural contours. In conclusion, we assembled it using durable, premium materials. We've taken comfort to a whole new level.
TECHNOLOGY – Thinking outside the box.
As far as things in boxes go, this is kind of a big deal. Before you've even unboxed it, you're holding a pioneering piece of tech that's leagues ahead of any other headset. But because we have one eye on the future, firmware upgrades and value packs are already on the way to boost it even further. In conclusion, if you think it's great now, just wait…